Hello! Welcome to CATs Cafe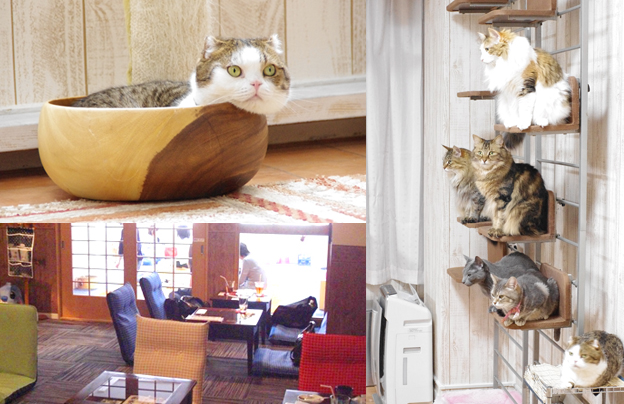 access
2F-1-3-2 matsukage-cho,naka-ku YOKOHAMA-shi,Kanagawa,JAPAN
JR ISHIKAWA-CHO Station 1-minute walk【Map】
hours
every day from 11 to 20.
Basic Charge(Tax is included)
First 30 minutes:1,100yen with drink
220yen for every 10 minutes extension
《Please manage your time by yourself. We don't tell you when your time is up》
Set Menu(Tax is included)
90 minutes

+One drink

1,980yen

120 minutes

+One drink

2,200yen

180 minutes

+One drink

2,750yen
Free-time

(Weekday)

All time-

3,300yen

Free-time

(Holiday only)

All time-

4,400yen
Our cafe is served by the time charging system. It is charged to the time of start to accounts. The time is the total time of spent in the room of a cat, and the room of the cafe. and you need a one order at least (After accounts, you can not use the room of the cafe only. )
Favor from YOKOHAMA"Leon"
Time charging/One order System
 Our cafe is based on a timecharging system.
It will begin at the end of explanation of the sytem.
We ask you to order at least one item before entering the kitty room.
Noise
Please be careful about any sudden loud noise or move, because it will get
kitties scarad. So please stay calm and do not make any loud noise.
Injuries
We are not responsible for any damages or injuries by animals.
We will provide you a first aid treatment.
However, we do not assume any financial responsibilities.
Children under 13 years old
 Children under 13 years old
must be accompanied by a parent or a guardian.
Outside cats and food
 Outside food and beverage are prohibited.
Please do not bring  any animals in from outside.
Toys
 We allow guests to bring your own cat toys.
Allergies
 If you have cat/animal allergies, please comsult a doctor
before entering our cafe.
Pictures
You can use your cameras and smartphones to take pictures of cats, however, in order not to cats get scared, flash is prohibited.
Please avoid capturing other guests.
Free Drink   …Iced…Hot
| | |
| --- | --- |
| Regular Coffee | Calpis |
| Coca Cola | Calpis Soda |
| Ginger Ale | Green tea |
| Green soda | Oolong Tea |
Premium Drink  …Iced…Hot
| | |
| --- | --- |
| Café Au Lait | Caramel Machiart |
| Green tea au lait | Green tea au lait |
| Caffe Mocha | Cappuccino |
| Green tea Calpis | Iced tea |
| Milk Cocoa | Chai tea |
| Yuzu-tea(Citrus tea) | Milk |
| Yuzu soda(Citrus soda) | Rooibos/Iced Tea |
| Apple juice | Passion fruit&Calpis |
| Orange juice | Passion fruit&Apple juice |
| Mango&Apple juice | Passion fruit&Orange juice |
| Mango&Orange juice | Mango Calpis |
| | |
| --- | --- |
| Earl Grey | Lemon Mint |
| Apple | Rosehip Blend |